TOP 10 FOOD BUSINESS IDEAS IN 2023
January 2, 2023
Posted by:

alignexperts

Categories:

Business plans, Competitive research, Innovation
The food business sector holds a treasure of opportunities for those who are looking to start a food business in 2023. In this growing population, starting a food business now could be a great idea. Food business never goes out of style as everybody needs to eat food, as it is a daily essential to live, several times a day. That's why starting a business centered on food can be truly rewarding enterprise. Indians celebrate festivals all year long and have a broad palette. They celebrate different festivals with different foods every time.
Starting a food business in 2023 can sounds crazy. But as a result, it is growing in popularity as a profession. If you've decided to get into the food business for the first time, it's a great choice. But you're probably left wondering what comes next. With so many possibilities, the options are endless.
No matter what type of food business you choose to pursue, be sure to put all your efforts into it. Tastes may vary from person to person, but everyone needs to eat. A wide variety of product offerings means that no matter how many food retailers enter the marker, there's always a room. If you are worried about how to start a food business and from where to start a food business, here you can know about the top food business ideas for 2023.
1. ORGANIC FOOD INDUSTRY:
Organic food describes products made with no artificial chemicals but made using natural fertilizers. Organic foods have grown incredibly popular in the past decade as the safety of pesticides has become an important concern for a lot of customers. An organic food store would need an investment of Rs. 10lakh. Organic farming would need an investment of around Rs. 50,000-60,000. Organic foods are very healthy as they are naturally grown and more nutritious than regular foods.
Here are some of the best business ideas revolving around the concept of organic foods:
Diet consultant
Supplying the supplements
Organic pet food supplier
Organic party planner
Producing home- made organic products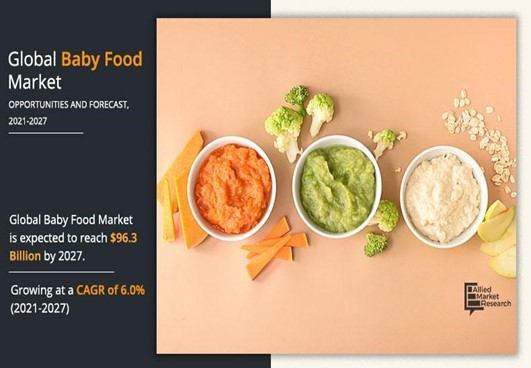 Baby food is mainly specialty nutrition with well-balanced nutrition quality intended at breast milk as closely as possible. Research has proven that the market size of baby food will be USD 85.61 billion in 2023 and upcoming years. This impulse has led to significant growth in the industry in recent years. The ongoing expenses for a baby food business include rental costs for a commercial kitchen and the cost of purchasing more supplies. These costs are minimal. Baby food businesses can increase profitability by shipping baby food to customers. Also selecting a domain name is other important aspects. It's very important to secure your domain name before someone else does.
How to start a baby food manufacturing business?
Do some market research in your area.
Get a food handler's permit
Create a logo, a vision, and a brand.
To cook and package your food, rent space in a licensed kitchen
Go out and buy your packaging supplies
Create nutritional analysis sheets that compare and contrast the contents of branded baby food items to your own.
Canning is a method of preserving foods for longer periods by packing them in airtight containers. The global market is majorly driven by the rise in the consumption of various packaged food products and beverages that are convenient to use or consume. As the consumers are demanding for Ready-to-cook and Ready-to-eat products, has aided the canned food market growth. With health concerns on the rise after COVID, consumers are increasingly opting for organic food products, presenting a great opportunity for manufacturers to offer organic canned food products. You can invest as much as possible with a guarantee of doubling the profit. But remembering the things like :- In-depth market research, a proper business plan, understanding regulations and food laws, and conducting a market research will help you to gain much more knowledge and profit in your business.
Below are some tips to consider for successful starting up a canned-food industry:
Create an outstanding product
Start small
Perform market research
Create a business plan
Find a good name for your business
4. RICE PROCESSING AND POLISHING INDUSTRY:
As the highest source of nourishment for over half the India's population, rice is one of the most essential commercial food crops. As rice is highly consumable food in India, it is having the highest market for the packaged rice segment. The manufacturing steps including preparation, planting, harvesting, drying, hulling and milling. To start a rice mill plant, one needs licenses and permit from the state government. If you are looking for a profitable business then the rice mill plant is the best option for you. If you are planning for a micro enterprise, then it would cost you below 25 lakhs for manufacturing and below 10 lakhs for services.
Some of the most common rice business ideas for a starter are:
Rice farming
Rice dealership
Wholesale selling
Rice mill business
Retail rice selling
Rice export.
5. PASTA PRODUCTION AND PACKAGING INDUSTRY:
Pasta is a universally enjoyed food. Pasta has been produced at an industrial level since the beginning of 1900. Pasta is popular around the world, and pasta production had nearly doubled during the last three decades. The pasta production industry is very flexible as it is easily manufactured, it takes up little storage space, it is easy to cook, and it is rich in complex carbohydrates. Also, pasta is very reliable as it can be even made at home just by using pasta rolling machines. Pasta continues to increase in popularity. In addition, people are finding less time to prepare meals, and pasta is easily made.
Start your pasta business by these following steps:
Plan your pasta business.
Register your pasta business for taxes
Open a business bank account & credit card
Get the necessary permits & licenses for your pasta business
Get insurance
Create your business website
Set up your business phone system.
6. PRODUCTION OF BAKING POWDER AND BAKING SODA:
Production of baking powder and baking soda requires a little chemical knowledge. Because baking powder and baking soda. production begins with sodium bicarbonate. And also, the uses of these two has a wide range of applications, including cleaning, deodorizing, buffering, and fire extinguishers. As they are used widely in many fields, starting your business in 2023 in these two fields can increase your profits. As 53,000 tons of baking soda and baking powder were sold annually, its demand is also increasing in these increasing population.
A semi-automatic plant may be set up by having the following production factory setup and machinery for the baking powder and soda business:
Sifter
An oven that works through electricity
Packaging machine
Micro- pulverize
Double shaft mixer
Weighing scale
7. PROCESSED VEGETABLE INDUSTRY:
Vegetable business is a mainstay in every home worldwide. As nutritionists and other health specialists guides their customers to eat more fresh vegetables, the demand had expanded for processed vegetable business in upcoming years. But if you are looking to meet this demand with supply, you may find that opening a vegetable business in India is a little difficult. Details on how the firm owner wants to sell the vegetables, such as creating a shop in the market, having a rolling vegetable cart that visits various areas, or even giving door-to-door delivery of vegetables in a specially equipped vehicle may costs you huge. But if you have a proper knowledge and planning regarding the business, everything could be easy going.
Here are the top 5 best business ideas in vegetable processing business:
Ginger processing business
Onion products manufacturing business
Garlic processing (Flakes, paste, and powder) business
Potato products manufacturing business
Tomato products manufacturing business.
8. CHOCOLATE PRODUCTION INDUSTRY:
Starting a chocolate making business requires skills and expertise. In this business, you can easily make a profit of at least Rs. 30,000 per month and can reach up to 1 lakh. Because the word 'Chocolate' instantly makes anyone's mouth watery. The chocolate business has been emerging with many new start-ups dedicated to this particular field. Specially, in India, celebrations mean sweets and chocolates, so there is a high chance of profit and growth in this industry, irrespective of the business being well-established or a start-up. And you could make it by investing about 3-6 lakhs for a small-scale industry.
Here are the steps to start a chocolate business:
Research
Location
Licenses and registration
Equipment
Finances
Marketing
9. PROCESSED DIARY FOOD INDUSTRY:
India is the largest producer of milk and is one of the largest producers and consumers of diary and Dairy products in the world. The demand of milk and milk products is high in all seasons. It is all-time active market. Any other product cannot substitute the demand for milk. For most of the people, the mornings are incomplete without a cup of tea or coffee or a glass of milk. And also, processed dairy products is a very good source of income. Also, there is huge demand for milk in restaurants, sweet shops, tea and coffee shops, and small and big business. The dairy farm in India does not require employment skilled labor. Therefore, the labor expenses in this business are comparatively low.  
A start-up capital requirement for such business is between Rs. 2 lakhs to Rs. 6 lakhs.
Before starting your business in processed diary products, make sure of all these points:
Ensuring maximum profitability for Diary-farmers
Ensuring reliable, efficient and hygienic diary processing
Improving the energy efficiency and cooling in storage and logistics
10. FLOUR MANUFACTURING INDUSTRY:
Although there are many flour manufacturing industries in India, but the high demand for various flours makes it still profitable to start flour manufacturing business in 2023. The cost of starting a flour manufacturing business varies a lot due to the different production capacity. If you are going to set up a small-scale factory flour mill, the cost would be much cheaper than medium or large-scale industry. Flour is an important aspect of the Indian diet. As a result, flour is an item that almost every household purchases on a regular basis, making flour manufacturing a viable business opportunity in 2023. A flour manufacturing firm can be a good idea if you want to start a small-scale food business in 2023.
Some more important thing to remember before starting your flour manufacturing business are:
Gain all the operational knowledge before starting the business
Purchase everything carefully including milling machine and all the other equipment
Choose the location near to the residential areas, so that you can get more and more customers
Follow all the standard procedures to start the business including licensing and registration.
Food business ideas can give you higher returns if you are moving forward with the ideas. It is essential to consult with an expert so that it can go smoothly like a bed of roses. Food is a constantly evolving industry with a wide variety of products, and a huge volume of customers. That makes it a great business opportunity in 2023. Starting a food business is a great chance to make money doing what you love.